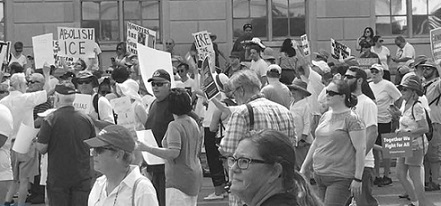 It made a big impression in Portland, and quickly spread around the West Coast and into the Midwest. This morning, July 2nd, at 7am a coalition of organizations lead by Mijente Louisville began a blockade of the ICE office at 7th and Broadway in downtown Louisville. The coalition includes Black Lives Matter, Stand up Sunday, SURJ Louisville and Anti-Racist Action Louisville. An Occupy ICE blockade also began two days ago in Atlanta.
Mijente describes itself as a "Latinx organization to empower marginalized communities" through participation in the Sanctuary City movement. According to organizer Jesus Ibnez "Last week we started a campaign called free our future. Focused on separation of families at the border" with a civil disobedience action that lead to 9 arrests in Rogers Texas.
This morning's physical blockade was quickly broken up by federal Homeland Security riot cops working with Louisville local police but protestors remain in the area and intend to camp at the site indefinitely. Today was chosen by Mijente Louisville "in solidarity with a second civil disobedience in San Diego at 9am Pacific which is to abolish ICE." The activists are calling their blockade "Camp Compassion" and had hope to bring toys to separated toddlers and children being dragged to deportation hearings. ICE agents ran over the toys in the driveway with a convoy of vans carrying additional security personnel early in the day.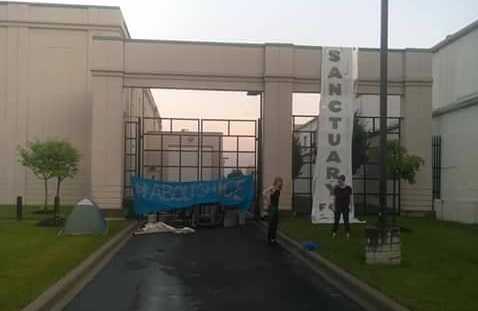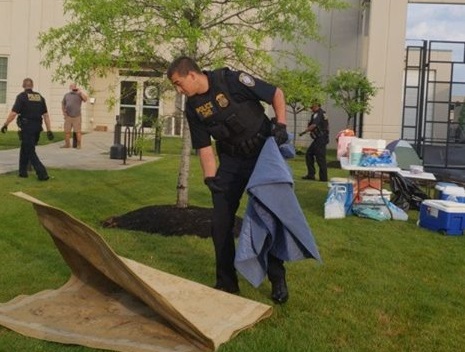 Local Police Assisted Federal Agents is dismantling the "Sanctuary City" banner on the building even though Louisville is a sanctuary city and the Louisville Metropolitan Police Department is forbidden to coordinate with ICE. They may have found a loophole by coordinating instead with the Department of Homeland Security in response to President Trump's late night twitter threats to meet the "ANARCHY" of "racial protestors" with "LAW AND ORDER."
Louisville appears to be a sanctuary city in name only. Although the Louisville mayor Greg Fischer elbowed his way to speech and photo op at a Democrat party lead #keepfamiliestogether rally yesterday, that did not stop him from deploying police early to assist Federal agents from interfering with the protest and blockade on federal property.
Fischer is a noted graduate of Vanderbilt University whose endowment in heavily invested in private prison companies like CoreCivic. Before making his public appearance lap and collecting his Democrat party lip service points, he was at an event with education secretary Betsy Devos, who has put considerable family foundation money into immigrant detention and child kidnapping.
While there appeared to be an initial setback with implementing a full blockade, all court hearings for deportation and other issues were halted for the day before they even began. The activists have already implemented a kitchen and appear to be settling in for a long occupation.
When asked if the occupation was connected to the #OccupyICE blockades in Portland, Atlanta, Chicago, Detroit, Tacoma, Los Angeles and Atlanta, Ibnez replied "not connected but in solidarity and a lot of people are reaching the same conclusions. That conclusion is that we need to put our bodies on the front line. Comprehensive immigration reform is over, we need to dismantle the deportation machine."
The Mockingbird will continue to cover this blockade as there are developments and other blockades around the country solid information becomes available.