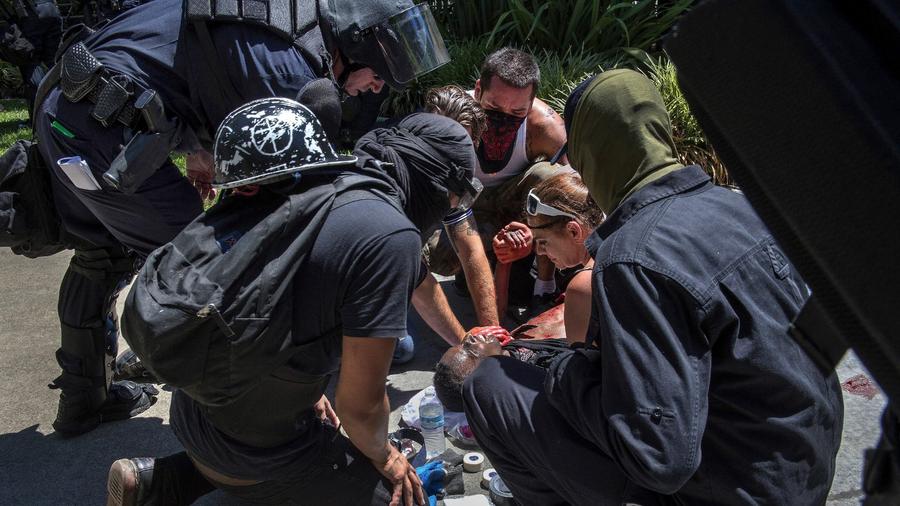 A rally by a white supremacist group known as the Traditionalist Workers Party for "free expression" in Sacremento turned violent as the group, along with their allies the Golden State Skinheads clashed with counter protestors at the State's Capitol Building and the surrounding grounds. Tear gas, mace, sticks and knives were used in combat by multiple sides in the melee.
Five anti-racist activists and one neo-nazi were hospitalized with stab wounds. Despite the police being present, no attempt was made to arrest the knife wielding neo-nazis who claimed the they were holding the rally against "leftists who are against Donald Trump supporters and other on the right."
The Traditionalist Workers Party is no stranger to acts of racist violence in support of it's goals and Donald Trump. The group's founder Mathew Heimbach personally lead an attack on Black Lives Matter protestors at a Trump rally in April in Louisville.
The police have made no arrests but Sacremento Police Chief Sam Somers clearly demonstrated his favor in brief statements which were quoted by the press "It's a highly volatile situation," Somers said. "This time the anarchists have taken a much more aggressive stance to wreak havoc on the city." It is unclear how Somers managed to discount the white supremacist group's documented recent history of violence as responsible for the day's disproportionate casualty count and yet blame unnamed anarchist groups for the melee. His later statements to the Sacremento Bee echoed this: "Regardless of the message, it's the skinheads' First Amendment right to free speech."
This incident in Sacremento and the preceding attack on Black Lives Matter protestors are not the only examples of political violence by white supremacists that have found favor with police officials in recent months.
In Minneapolis this past November protestors occupied the entrance to the 4th precinct station following the police shooting of a handcuffed suspect Jamar Clark. Demanding justice the occupation went on for several days and nights. Three white supremacists from the suburbs counter protested the Black Lives Matter demonstrators and open fire when confronted. Five people were hospitalized with gunshot wounds as the police refused to allow ambulances to approach.
Subsequent to the attack, police union leader Bob Kroll referred to Black Lives Matters as a domestic terrorist organization and blamed them for the gunfire. Kroll himself is a member of a law enforcement only motorcycle gang called City Heat. City Heat is known to display neo-nazi images on their regalia. The white supremacists opening fire have been given light or reduced charges and two have been released from custody. All five demonstrators who were shot were black.
The neo-nazi group has vowed to return and to also be present to attack protestors at the Republican National Convention in Cleveland.
This is a developing story which will be updated as more information emerges.
Update #1 6-26-2016 21:06 EDT  The casualty count according to the Anti-Racist Activists is 6 on their side, 4 stabbed and to with blunt force (both baseball bat and metal pole) injuries to the head.  They are collecting medical donations here.
Update #2 6-27-2016 23:40 EDT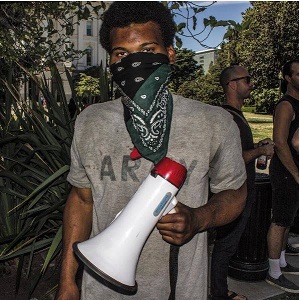 Protestors are trying to find out the identity of one their comrade who is in critical condition still:
EMERGENCY: Do you know this man?
This man is in critical condition after being stabbed by Nazis in Sacramento. His first name is reportedly "Vincent" and he is from Chicago.
If you know him please contact @AsterZephyrIsis on twitter.
If you want to help, check out: https://itsgoingdown.org/support-injured-nonazisinsac-shut/
PLEASE SEND INFO TO TWITTER ACCOUNT VIA DIRECT MESSAGE. Do not identify him publicly.