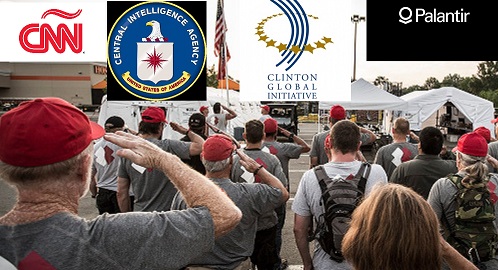 Should the CIA and it's contractors be the guiding force in the relief efforts after a hurricane or other natural disaster? If you think the answer is yes then Chelsea Clinton has a job for you. In the recent trove of John Podesta's emails released by Wikileaks a message has come to light indicating that the intelligence contractor Palantir has been placed in charge of the data analysis for the Clinton Foundation's Charitable action arm called the Clinton Global Initative (CGI). CGI has hundreds of programs and hundres of donors, all interlocked in funding schemes it calls commitments.
Palantir, which makes some of the software tools that are part of the NSA's PRISM effort was contracted to analyze data on all of CGI's programs. While that linkage of foxes and hen houses is due for it's own article as the feathers and blood can be fully accounted for, one particular headless fowl was singled out by Palantir for it's endorsement and participation.
CGI is far from shy about handing over donor and client information to Palantir. This relationship was revealed as part of a 2014 email update sent directly from Kamyl Bazbaz (email address kamyl@chelseaoffice.com ), then Chelsea Clinton's personal press secretary, to John Podesta. With Podesta being Bill Clinton's former White House chief of staff and Hillary Clinton's current chief of staff, the email looks like two pampered family poodles sniffing each others backsides and wagging in recognition of their shared pack identity.
The relevant part of the email read "Continuing her obsession with data, Chelsea has led an effort to look at the lifetime of every CGI commitment over the past 10 years and figure out what can we learn from the commitments that worked, and what can we learn from the ones that didn't. With the help of Palantir, CGI is planning to release special report that examines this data and looks at what characteristics lead to the most successful CGI commitments."
Palantir's actual report is not CGI's website. CGI's claims to have a complete public record of commitments made and met, along with 90% of donors and 100% of recipients. There is no link to their "external database." Palantir did make some suggestions and then picked an effort by the CGI to join.
What Palantir joined and back was a non-profit entity called Team Rubicon, which provides disaster relief. The idea of a company that manufactures spy software choosing to back disaster relief efforts until one looks at Team Rubicon's advisory board and history.
Team Rubicon began when a small group of veterans who had been deployed to New Orleans for the disaster relief turned ethnic cleansing that took place in the wake of Hurricane Katrina. They later participated in disaster relief efforts in Haiti and that lead to the formation of a non-profit with a board and powerful connections.
The board of advisors for Team Rubicon is a virtual clubhouse of former National Security State Executives. Former CIA Director and CentCom commander David Petraeus sits there. Petraeus's history as CIA director and theater commander for two wars speaks volumes on his level of altruism. He is joined on the board by Ehsan Zaffar. Zaffar is also a Senior Advisor on civil rights at the Department of Homeland Security. Advising DHS on civil rights consists mostly of finding ways to circumvent them.
Zaffar appears frequently as a pundit on CNN and Slate. Rubicon's other connection to CNN is Kaj Larsen, an award winning Correspondent and Producer who spent five years as a US Navy SEAL Lieutenant at SEAL Team One. He is still a reserve officer at the United States Special Operations Command.
They are joined by former Infantry Officer John Pitt. Pitt served two tours in Iraq before becoming a lawyer. His day job is as at partner at the prestigious firm of Kirkland & Ellis LLP in Houston, Texas. His practice focuses on complex corporate transactions, with a particular focus on the energy sector. His firm has represented Energy Transfer Partners, majority owner of the Dakota Access Pipeline in numerous cases and deals.
Rounding out the national security interests guiding Team Rubicon is Russel L. Honoré (Lt. Gen USA ret.) former commander of Joint Task Force Katrina. When not advising Team Rubicon he travels as a motivational speaker on leadership, sharing his experiences of completely bungling disaster relief for New Orleans and the forced ethnic dislocation that followed.
The partnership between Chelsea Clinton's private playground at the Clinton Global Initiative, private spy corporation, a general, CNN, a former director of the CIA and an energy company lawyer will yield the data needed for the energy and real estate industries to profit massively from global climate change.