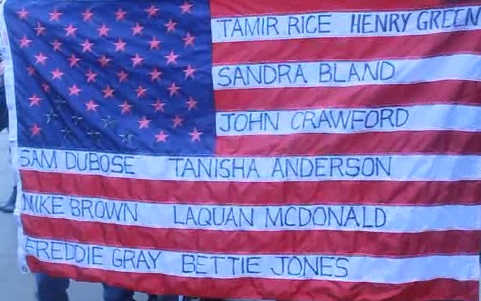 On June 6th Henry Green was a block from his home in Linden with a friend. Henry Green was 23 and a law abiding citizen with a conceal carry permit. He was armed. Two men rolled up in an SUV jumped out and shot and killed him. They only said "Stop! Stop! Stop!" and then fired before Henry Green could react. They were later identified as police in plainclothes.
Immediately afterwords the Columbus Police Department made contradictory claims based on an unnamed witness that the officers did identify themselves and Henry Green attempted to shoot at them. A nearby resident's account disputes the officer's claims as does the account given by Henry Green's surviving friend. The department spokesperson, Sgt. Richard Weiner, gave no explanation as to why multiple witnesses named by the press contradict the officer's claims and the claim of their mystery witness.
A community organization, the People's Justice Project, held a protest in front of the courthouse today, June 15th. The group also attempted to present County Prosecutor Ron O'Brien with a petition and two demands. They, accompanied by Green's still visibly shaken and grieving family are demanding officers Jason Bare and Zachary Rosena be prosecuted for reckless homicide for Green's murder. They are also demanding an outside special prosecutor be appointed in this and all cases where there is an officer involved shooting. The officers have not been charged and are still receiving taxpayer money.
The protest of over 100 marched around the court house and were lead in a powerful call and response chant of "I AM, SOMEBODY, AND I DESERVE, FULL EQUALITY, RIGHT NOW. RIGHT NOW!" Later about 40 proceeded inside to present the petition and demands in person to the prosecutor. Only family members and five representatives from the group were escorted by police past the lobby and permitted to take the elevators to O'Brien's office.
The group was informed by police prior to entering the elevator that there were no personnel present in the office with the sole exception of a receptionist. It is not clear where the prosecutor's public relations officer was nor could a location of any assistant prosecutor or investigators be determined.
Although it was not revealed by his office to anyone present, Ron O'Brien himself was a five minute drive across town at the Opiate Summit working together with law enforcement gliterati from across the state on tougher laws and more police. It was lunch time there. This is the second such summit in three months. They are affairs catered with delicious meals provided by a company that uses the labor of former prisoners. A dumpster bound leftover sandwich from a previous conference was supplied to this reporter by a prison rights activist in attendance. He is of the opinion that the taxpayer subsidized meal  was indeed excellent even when served cold.
While Ron O'Brien was too busy with his prison labor sandwich to meet with the family, the protestors vowed to remain in the lobby of his office until someone in authority officially received the petition. After a brief delay John Radcliff, an investigator with the prosecutor's office, came from within the office and received the petition and demands directly. He told the group's spokeswoman that would received a call with an official response within 24 hours from Ron O'Brien himself.
Organizers proceeded out of the building where they held a prayer circle with Green's family that ended in hugs all the way around. The mood was somber and the grief was palpable and thick as the humid June air.
The Mockingbird has not be able to reach rally organizers in order to confirm that they had yet heard from O'Brien. However his office did give a statement to the Columbus Dispatch within two hours of the end of the event. The statement quoted O'Brien essentially saying no to the demands "I understand that the Columbus police are conducting an investigation of the circumstances surrounding this shooting death using established procedures that we all expect to be thorough and complete," O'Brien wrote. "Until all interviews are done and other evidence collected, no final judgments should be made."
O'Brien's statement leaves many questions. What physical evidence has not yet been collected? In the nine days since police murdered Henry Green who have police failed to interrogate in the hopes of bolstering their dubious claims? Why was investigator Radcliff cowering in the back office until given permission to come out when he could have been investigating? Why was the public relations officer able to craft a statement in under two hours but not able to meet with the family and community? Was the statement written before the protest even began? Will Ron O'Brien ever get his lunch to go and spend the twenty minutes it would take to make a round trip and deliver empty promises to a grieving family like a true politician?
The Community Organizers have vowed not to rest until justice is served to officers Bare and Rosena. One wonders if it can be served as promptly as Ron O'Brien's lunch.