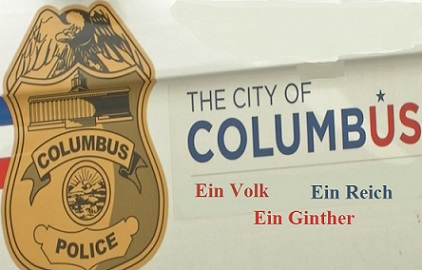 Columbus is not a sanctuary city, despite the claims of the big fat liar in charge, Andy Ginther. It has not gone so far as to literally unleash the hounds (or in this case German Sheppard attack dogs) on behalf of ICE like the Ohio State Patrol, but contrary to resolutions in support of individual immigrants seeking sanctuary and other public pronouncements, the Columbus Division of Police does assist ICE in roundups. They did so last night, July 22nd, at a women's shelter on Cassady avenue.
According to witnesses who were visibly shaken, local police and federal ICE gestapo surrounded the building in the middle of the night. They then dragged every resident outside for questioning, with terrified children clinging to their mothers. Columbus Police participated in every visible part of the operation. It is unknown if they actually caught anyone being unlawfully brown, poor and female or separated any children for later sale by Bethany Christian Services, but the intent and intensity of the operation was clear.
As part of an international journalistic effort by over three dozen journalists and publications that includes the Mockingbird, the hard working people at MuckRock uncovered a memorandum of understanding between the Columbus Police and ICE. This MOU allows Columbus Police to detain people on immigration violations if a warrant exists. Thus all ICE has to do is show up with a warrant and demand support. Which is presumably what they did with this targeted operation. The actual relevant text can be seen below: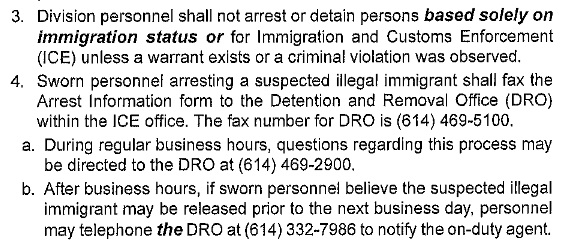 Trump announced today that the "border zone", where ICE can detain anyone and force them to prove they have been in the country legally for 2 years or be immeidately deported, now covers the entire country. It had been within 100 miles of any border and did include Columbus. This law, which was written by Newt Gingrich's contract on America Congress and gleefully signed by Bill Clinton, was already in effect in Columbus as this city is withing 100 miles of the border when measured from Lake Erie.
Thus Mayor Andy Ginther knew that ICE has a warrant from Congress that is 20 years old and still in effect when he pretended that the Columbus Division of Police would not help ICE. A more comprehensive MOU, like the one signed with the Ohio State Patrol, is based on 19 USC 1401(i) and requires that the federal government reimburse the Columbus Police for wages and other costs if ICE uses Columbus Police Officers.
What that means is that Columbus Police Officers are herding women and children out of transitional housing in the dead of night to hunt people and send them to camps for free. That is what Andy Ginther's so-called sanctuary city actually is. Nationwide Insurance pays no taxes on it's downtown headquarters, Columbus Police round people up to send them to camps for free, and it's undercover detectives have been witnessed monitoring anti-ICE demonstrations at the workplaces of contractors and collaborators around the City.
Donald Trump killed any hope of meaning in the English language. Columbus City Government buried it in an unmarked grave by the airport last night.