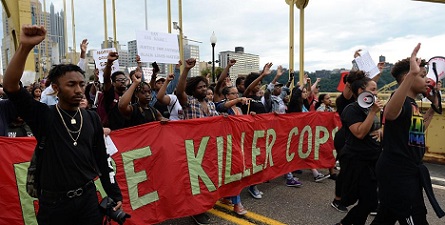 As the nation begins to build it's network of private camps, military detention camps, and non-profit child kidnapping facilities, the third week in June also brought three high-profile shootings of black men. Tony Green age 33 of Kingsland Georgia, Antwon Rose 17 of East Pittsburgh Pennsylvania and Thurman Blevins Jr age 31 of Minneapolis were all killed in the last week. Neither Green nor Rose are even alleged to have been armed. In more heavily populated Minneapolis and Pittsburgh, there have multiple days of street protests.
No reason has been given for the shooting of Tony Green in Kingsland Georgia by Police Officer Zechariah Presley. No claims have been made about Green committing a crime or being armed. Apparently he ran from a traffic stop and was shot. No other explanation has been given. The police have not released any records or video to local media, although the NAACP is investigating. A local pastor, Mack Knight has been leading prayers at nightly gatherings of concerned community members "We are looking for justice," Knight said. "We are looking for charges to be brought up real soon. We are not taking this laying down."
In Minneapolis, there have been conflicting reports of whether or not Thurman Blevins was armed. Police and a white witness claim he was. The standard plant the gun on the dead guy trick seems to be in play here as at least one witness, James Lark saw the entire incident and said to the media "On my mama … I didn't see no gun. I didn't see no gun. I didn't see no gun. I didn't see no gun." There have been multiple nights of protests at the 4th Precinct substation in North Minneapolis where protestors had gathered in the cold for weeks after the shooting of Jamar Clark. Protestors briefly blocked the local Pride Parade this weekend for including the police officers prominently in the parade. The parade was blocked for 60 seconds before parade organizers lead a chant of "all lives matter," a common pro-police slogan. [Editor's update: Two hours after this story was posted, the racist pig that shot Antwon Rose in the back, Michael Rosfeld, will be charged with criminal homicide. It appears as though the prosecutors will go with the all-white jury believes that blue lives matter and should fear for their lives route ie the George Zimmerman method]
There have been nightly protests in East Pittsburgh for a week since 17 year old Antwon Rose, an honor student and avid skateboarder was shot without warning in the back by a police officer who had been on the job for 3 hours. The officer had been fired from multiple other jobs for brutality. The nightly protests have blocked an interstate at least once.
Police shootings of unarmed black people have increased steadily since the 2014 rebellion in Ferguson Missouri. The Mockingbird did a statistical breakdown and examined the rate in 2016. A brief survey of the available records indicates that the numbers continue to rise. As of June 1st of this year 92 black people have been extrajudicial executed by police in the United States. Considering that at least three were murdered in high-profile shootings in the third week in June that number has surpassed 100 and the full numbers for June are not yet posted at any reputable resource, it is safe to assume that both the number of killings and the rate are increasing.
The rate of increase of reported police killings of mostly unarmed black people has been 10% yearly since 2014. This can only be seen as a policy response by police to a social movement. When relative population is factored in, this can only be seen as part of an overall program of ethnic cleansing that integrates neatly with America's new concentration camps. The Mockingbird will continue to track these numbers as best we can and follow the responses of communities that chose to fight back.