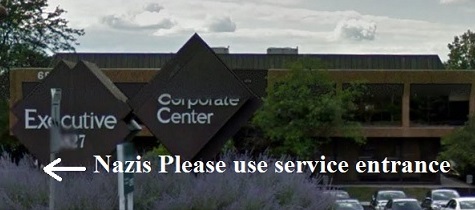 Given a few decades even Neo-Nazis can learn branding. Just as Trump has re-branded himself from Howard Stern's whipping boy to Twit-in-chief (tweeter-in-chief?) of the United States, the Neo-Nazi movement has re-branded itself as the "Alt-Right." This makes their younger followers feel more hip than having to affect a 1920s clothing line or dancing around in their mother's curtains. Fascism in all countries has always sloppily combined an imagined mythic past with visions of an imagined mythic future while parroting endless lies about the present.
When one of the Darlings of the Alt-Right Movement, Richard Spencer of the National Policy Institute, shouted Hail Victory at a Trump Campaign event, there was little doubt of the rebirth and rebranding of this movement in America. Richard Spencer's neighbors in the quiet ski resort of Whitefish Montana were not amused and some organized a boycott of business he runs with his mother. Whitefish is on the Idaho – Montana border in an area with a long history of white supremacist organizing and is 95.8% white according to census data. Active and fearless rejection by his own small community was not something Spencer expected.
Spencer acquired help in the form of Worthington's own would be fuhrer, Andrew Anglin. In December Anglin announced plans for an armed "March Against the Jews" in a town of 6,000 that is less than 1% Jewish. He had planned to bus in "over 200" neo-nazi skinheads from the Bay Area to terroize the community "sometime before the Trump's inauguration" before announcing a January 15th date. His march permit fell through because of paperwork that was filled out so poorly that it seemed like a publicity stunt to drag out the lead up organizing and further promote the event.
Anglin runs a neo-nazi website called the Daily Stormer, which is a rising star of internet hate groups with little actual cohesion of activists working together in the flesh and blood reality. He is well known in the Worthington Community but does not actually live there, trotting the globe without any visible means of support. Some rivals from within the White Supremacist underground place him in Thailand as a sex tourist while some slightly more reliable sources have said that he "is in or recently was in" Germany.
The only visible financing for Anglin's internet empire of hate comes through his father's business address in Worthington. His father, Greg Anglin, runs a Christian Counseling Center through a shared office at 6827 N. High Street in Worthington. The younger Anglin registered his internet domain through that address and solicits donations to it. The elder Anglin also has substantial real estate investments in Worthington, Columbus and Powell.
The local infrastructure for an armed anti-Semitic march in Montana brought the local anti-fascist group Anti-Racist Action out for a protest at the elder Anglin's place of business on Saturday the 14th one day before the Daily Stormer's planned march. The group brought out over 50 activists and local Worthington residents. They were supported by members Anti-Racist Action Louisville and other activists from around Ohio, Pennsylvania and Michigan. The majority of the crowd were local people who heard about the event from flyers and on social media.
Police, both uniformed and undercover monitored and filmed the event. One man who was on the property alongside Worthington Police claimed to be the building manager and told demonstrators that the Greg Anglin had his key card deactivated as soon as they were aware of the protest and would no longer be welcome there. A follow up for official corroboration showed that this is not the case.
Calls to the large multi-national company that manages the building, CBRE (NYSE: CBRE) produced a long run around. The CBRE employee listed as the building manager, Don Mastsanoff, at the building hung up on his cellphone (614 430 5000) on this reporter without even the dignity of a "no comment" after saying "Oh...your voicemail said protest! I thought you meant purchase." Other CBRE employees directed calls to a building manager named "Becky" at 614 430 5010. Becky does not return voicemails. Perhaps she is not as hard of hearing or as greedy as Don.
CBRE's corporate office issued a terse statement directly to a concerned citizen yesterday which they were kind enough to forward to the Mockingbird. It was labeled as being from a Robert McGrath and read in full "Thank you for your inquiry. We are taking this issue seriously and are actively reviewing the tenancy of Morning Star Ministries. CBRE strongly abhors all forms of hate speech and discrimination. All the best, Bob."
Robert McGrath's statement is an obvious lie as either CBRE was aware prior to the Saturday demonstration and lied to protect their nazi client or a Worthington police officer posing as a CBRE employee lied to protect neo-nazi financial infrastructure. CBRE has not discussed what "Bob" means by actively reviewing. Apparently they are just fine with armed neo-nazi's as long as they can make a few dollars. The Mockingbird will continue to monitor this ongoing issue.