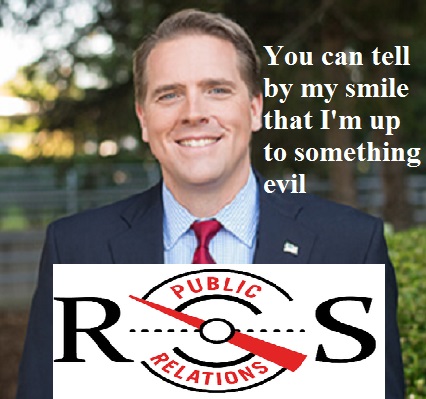 The world did not know Nick Sandmann until recently, when he has suddenly be pushed into a position as a young spokes person for the Republican far right like David Hoag is for gun control. The young bigots of Covington Catholic High School seemed to land in the perfect space for a confrontation, with brand MAGA hats and several well placed cameras when they began heckling and taunting first a group of Black Israelite and then a group of Native Protestors. His parents have retained a PR firm called RunSwitch, and he has been making the center-right media rounds. This event has all the earmarks of a planned confrontation and the PR firm has very strong links to Mitch McConnell and other key Republican politicians including George W Bush, Mitt Romney and John Kasich.
The scope and caliber of the firm place it out of the financial reach of any single American family that does not count a Fortune 500 person as a member. Sandmann's mother is a regional Vice President in client relations for Fidelity and his father sells custom truck bodies to the beverage industry for Vt Hackney. Their considerable combined salaries can still not afford to Hire RunSwitch for more than a few days without borrowing money. They have also retained one of the most prolific and expensive libel attorneys in the nation. Their combined expenses on this could exceed their earnings in a week. The senior Mr. Sandmann could have contact through his work to Runswitch, as the latter coordinates sales campaigns for the liquor industry and former sells beverage trucks with advertising. He still can not afford two top tier firms as a month of both would wipe out the savings of anyone with less than a billion dollars in holdings.
RunSwitch PR is functionally McConnell's campaign staff. One of it's founders, Scott Jennings is obviously a key player in this whole saga. Amongst his many jobs and past positions he is columnist at the Louisville Courier Journal, which first announced RunSwitch's involvement in January 19th article. That article named Jennings as a principal in the company and his role with the Courier Journal in a single sentence paragraph designed to be ignored but quoted the other principals, Steve Bryant and Gary Gerdermen extensively.
The firm claims it does "Crisis Management" for a variety of clients "All over the country." It seems they manufactured this crisis to profit from it. If Sandmann's parents can not really afford them then someone else or multiple parties must be paying. The Archdiocese of Covington is a candidate and so is Mitch McConnell. Scott Jennings, in addition being conservative political commentator on CNN and all his other titles, has been the senior adviser and spokes person for two McConnell linked dark money political action committees. These PACs, Kentuckians for Strong Leadership and the Kentucky Opportunity Coalition, have the untraceable money to make a campaign like this work.
RunSwitch's most recent discernible crisis management PR campaign directly involved Mitch McConnell and protestors. That was their involvement in generating pushback after McConnell and his billionaire wife Elaine Chao were run out of a restaurant in Louisville this past July.
Their ties to McConnell and high schools extend to the University of Louisville, which houses the McConnell Center. That center has programs for high school students. One is called the Young Leaders Academy for conservative high school students. Another, the McConnell Scholars Program, is for college students. Scott Jennings is a past participant in the program and since his founding of RunSwitch, several students in the program have been publicized as receiving an internship from Runswitch.
Les Fugate, the number four person at RunSwitch was the Director of Annual Giving at the McConnell Center Adjacent Governor's Scholars Program from 2012 to 2013.
The resume connections to powerful Republicans does not end there for RunSwitch. RunSwitch Senior Account Director Mary Ann Rhodes as a Staff Person and Legislative Correspondent for Mitch McConnell. Les Fugate, was also Director of Communications for the Kentucky Secretary of State and Deputy Assistant Secretary of State himself. One of their Vice Presidents, Kaylee Price, was Ohio State Director and Special Advisor for Mitt Romney's 2012 campaign. There she met Terri Studer, who is a Senior Consultant at RunSwitch while the latter was South West Campaign Director for Mitt Romney.
All of the elements are there. A PR firm connected to the most powerful Senator in the nation and past Republican Presidents and contendors, both of whom have an ax to grind against protestors. A local daily newspaper exclusively getting one of the numerous camera feeds to show "alternative facts" while a founder of said PR firm works there. The same firm has strong ties to the leadership of the Republican Party, extensive access to conservative children and rewards to pass out at all levels of the Education system.
This carefully curated event was designed to rile up the Republican base during the shutdown crisis to benefit the party without being tied to directly to the President but instead giving the senate Majority Leader Greater access to his base. Obviously this event has lead to an ongoing story and the Mockingbird will continue to cover the machinations of the manipulators as they materialize.