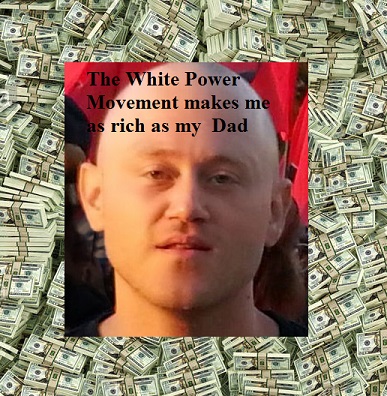 Central Ohio's would be fuhrer, Andrew Anglin, is often quick to plead persecution and beg for money from his followers. Attempts to cut him off from his father's so-called Christian Counseling center as a mail drop and check cashing front by the local antifascist group Anti-Racist Action have forced him to switch mail addresses. Despite false FBI claims that he is out of the country, and failed attempts to find him in order to file suit by the Southern Poverty Law Center, he is still hiding in Worthington and collecting quite a bit of money. He has begun spending it and not on legal fees.
In addition to his new mail drops, his online outfit, The Daily Stormer, raises funds through bitcoin donations. This has made Anglin into a virtual Reichsbank. To this date September 5th, he has garnered $248,668.87 from his minions, some of whom are active in other nazi groups in the Columbus area, as was shown by the recent spasm of crude swastika fliers in South Campus.
Anglin's current balance is a little over $70,000 in bitcoin. His followers also send him money via check. Formerly his father Greg Anglin was cashing his checks, which arrived at the elder Anglin's place of business until Columbus Anti-Racist Action shined a spotlight on that act of familial solidarity with the White Supremacist movement.
Anglin the younger has been begging for money to finance his defense against a lawsuit launched by the Southern Poverty Law Center. He has not actually been served with paperwork and thus the suit against him is not proceeding. The FBI claims he is not in America despite his direct threats against the Columbus Alive, his fake voter registration in the short North, and in person sightings of him in Clintonville. He is still hiding in the Central Ohio area, and making a profit far above his expenses on the backs of the ever flowing donations.
A computer security firm, Bambenek Consulting, began analyzing his bitcoin transactions and in the last week Anglin has converted over $18,000 of bitcoin into cash in several multi-thousand dollar transactions with Coinbase, a bitcoin banking service that is licensed by the State of New York and subject to federal banking laws.
There have been no reports of an $18,000 coke party anywhere in North Columbus in the last week. Anglin's underground lifestyle does not cost $18,000 a week. Yet he has converted nearly 20% of his bitcoin assets to cash. He is preparing to make a major move that required him to dip into his allegedly secret reserve capital.
John Bambenek, the principal of Bambenek Consulting was gracious enough to grant an interview with the Mockingbird during which he is using his expertise to track Anglin and other neo-nazis bitcoin transactions in order to "put pressure on them." He is also stated that "We are working with Coinbase indirectly to kick neo-nazis off their platform."
Bambenek wrote a program that daily tracks various transactions by neo-nazis using bitcoin and pots the results directly to twitter. The twitter handle used to update the world on the state of neo-nazi crypto banking is @neonaziwallets.
The Mockingbird will be assembling a team of computer security professionals to extend Bambenek's work in an attempt to locate an expose those people who support Anglin to the tune of nearly a quarter of a million dollars. Those funds from around the world finance much more than the rather austere underground lifestyle of potty mouthed nazi propagandist. They are clearly used to finance hate crimes in Central Ohio and around the country. We will keep our readers posted.