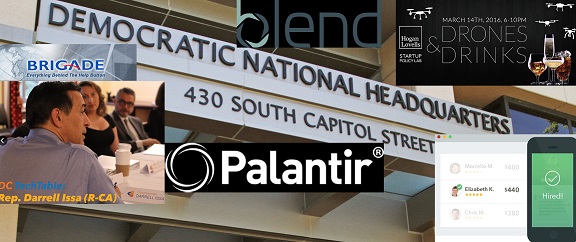 The numerous releases by Wikileaks over the past months have caused a stir in the national press. Although major press outlets tightly intertwined to the Democratic National Committee (DNC) have speculated without a single hard fact that Russian intelligence may have been the source of the leaks, criminally poor security seems to be the culprit. While the press has discussed the leaks in terms of their effects, the actual contents of leak of Clinton's private email server, followed by the DNC Leaks, followed by leak of the content of the secret Trade in Services Agreement, followed by the leaks of the Clinton's Chief of Staff John Podesta's emails have not gotten the examination or reporting they deserve. A little gem located in a single email points to a Congress wide effort led by the Democratic Party and intelligence community connected IT firms in San Francisco to ship thousands of jobs overseas.
Former DNC finance chair Jordan Kaplan, before he was rotated back to fund raising with and for President Obama directly (as he did from 2004-2013), was receiving his morning news briefings on a DNC server. These briefings include an E-Publication from Politico called "Politico Playbook presented by JP Morgan & Co." This publication is reserved for those insiders who are privileged enough to have their news sponsored by the same banks that Hillary Clinton gives $250,000 secret speeches to.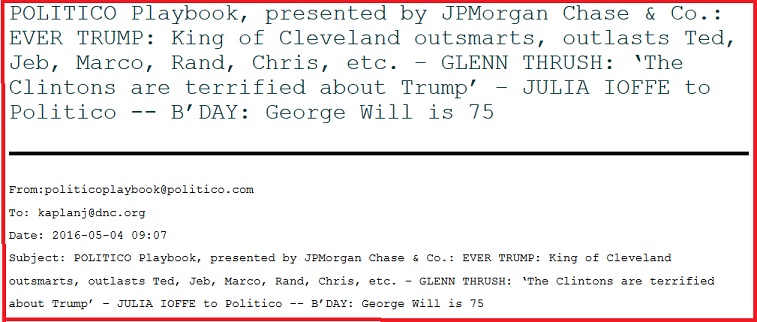 The bottom of Kaplan's May 4 2016 banker insider Politico news briefing contained a tech industry section called "Out and About in San Francisco" and it said "OUT AND ABOUT IN S.F.: "Brigade just christened our new SF HQ with a breakfast roundtable with members of the House New Dems and local startup execs. We talked about how tech can boost civic and political engagement as well as make government more responsive to voters. ... [A]ttendees included representatives from Brigade, Pinterest, Thumbtack, Palantir, Nerdwallet, Tech4America, Blend Labs, Startup Policy Lab, the Economic Innovation Group and the Office of Lt. Gov. Gavin Newsom."

The list of [A]ttendees for Democratic Congressmen were to talk about civic and political engagement includes three lobbying organizations, one military intelligence contractor with an extensive history of spying on the public, three other corporations with significant investments from intelligence community connected private equity firms and was hosted by a major conduit for tech jobs to be sent to lower wage locations outside of the country. Although these companies claim to "political insiders" to be "boosting civic and political engagement" their business models are uniformly based on temporary work and predatory lending.
Brigade Solutions, which hosted the event is headquartered in Chicago but they maintain a "relationship center" in San Francisco. Their major export from San Francisco is American jobs to India where they maintain two "contact centers" with 24,000 employees working for pennies in cubicals taking help desk calls. Their "relationship center" apparently can not offshore tech industry lobbying of Congress people but they can bring the best in the business to the breakfast table.
Those lobbying groups were obviously led by Startup Policy Lab, which creates tech solutions for civic engagement by bringing industry leaders and startup CEOs together with such enlightened politicians as Tea Party Republican Daryl Issa. They were joined by Tech4America and a K Street lobbying firm Economic Innovation Group. A quick look at the business models of the for profit partners in this breakfast club will give the a reader a good sense of the cash flow direction between classes that this group hopes to economically innovate.
Palantir spies on people. Their core business is data analysis tools and data integration for the intelligence community. Part of the Prism program exposed by Edward Snowden likely relied on their tools. A 2011 hacking attack by lulzsec hacktivist Jeremy Hammond exposed group effort by Palantir and another contractor, HBGary, to spy on and discredit opponents of the US Chamber of Commerce including journalist and attorney Glen Greenwald. Palantir was founded by venture capitalist Peter Thiel along with Joe Lonsdale, who recently became embroiled in a high stakes sexual harassment suit. Palantir also received start up funding from In-Q-Tel, a non-profit venture capital firm owned by the CIA and founded by the Director George Tennet.
Tennet left the CIA and eventually became the Managing Director of Allen and Company, a deal broker and Menlo Park private equity firm. In this capacity he provided start up funding to Blend Labs, which claims to provide mortgage assistance but in reality is a predatory mortgage by smartphone lender backed both Lonsdale's venture capital firm Formation 8 and Peter Thiel personally. Thiel is no friend of a free press, having finnanced the dozens of lawsuits that eventually caused the backruptcy and closure of muck-raking website Gawker.
Although they were not listed at the meeting, another leader in the new no-community impermanent economy is San Francisco based AirBnb, a huge online rental agency that settles people into expensive closets without leases. Airbnb and was founded with capital from Google Ventures and Peter Thiel along with Greylock Capital partners. Greylock's founder and chairman, Howard Cox, once also rotated onto the board of In-Q-Tel. Both firms, along with Thiel have significant history of co-investing with In-Q-Tel in defense industry projects alongside both Google and AirBnb investor Sequoia Capital.
Sequoia and Google also partnered to invest in breakfast club participant Thumbtack, which is headed by Jonathan Swanson, former Deputy Director of the National Economic Council in Obama's White House. Thumbtack is a combination of Angie's list and yelp for entertainers and "handymen," contributing to all jobs being temporary until outsourced by Brigade Solutions.
Together this combination of intelligence contractors, temp services, predatory lenders and intelligence community financiers are able to work effectively with lobbyists and former administration policy hacks to keep new Democratic Congress people focused change. That change is to the kind of economic policies that will never result in a work force that owns their own living space, gets a mortgage they can actually pay or even have a secure job. All this is neatly on the desk of political insider and Clinton campaign financial guru Jordan Kaplan courtesy of JP Morgan.