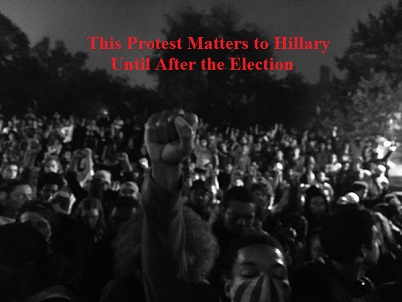 "The Democratic party is where social movements go to die" is a saying so old I can not attribute the original quote. In this particular case, the Democratic National Committee was standing ready with a shovel as President Obama leaned in for the eulogy and the Clinton Campaign carried the coffin. Black Lives Matter is not dead, but Clinton needs it brought to heel and buried alive.
On July 22, Wikileaks released the first 19252 emails of a large trove allegedly hacked from the Democratic National Committee by a person or persons known as Guccifer 2.0. A great deal of corruption is to be found in those emails. The DNC, Clinton Campaign and the Whitehouse's vetting, choosing and using carefully selected activists involved in the 2014 protests in Ferguson as surrogates and tools of legitimation will prove to be one of many forthcoming stories.
The activists mentioned positively and actively vetted in the DNC internal emails are Brittany Packnett and DeRay Mckesson. Both are part of the leadership team of a group called Campaign Zero, which appears to have been founded in the early summer of 2015 in order to channel protest energy into the right wing of the Democratic Party.
Previously Packnett served on the President's Task Force on 21st Century Policing. She sat on that commission along with a collection of police chiefs with the worst reputation for systematic repression of political protests in the nation. It appears as though she was included for the purposes of legitimating the process and giving it the illusion of inclusion
One of the key recommendations from this commission was body cameras, which are a direct pipeline to massive biometric monitoring. Body cameras, like the dash board cameras that preceded them, often seem to be conveniently malfunctioning at moments when police murder suspects, as was the case in the recent death of Alton Sterling in Baton Rouge.
The various recommendations of the President's task force have been town hall talking points at "healing forums" put on in Columbus and presumably other cities around the nation as desperate bid to bring a protest movement under the political control of the current ruling party.
Packnett's co-leader at Campaign Zero, DeRay Mckesson gets more media face time. He has made the rounds on talk shows all this year, and was recently arrested during a protest in Baton Rouge. On May 16, the finance committee of the DNC vetted and cleared him to be a surrogate for Hillary Clinton on at least one panel or even to chair the panel. His failure to place in the top 5 in the recent Baltimore Mayoral election was cited as a positive. The Central Committee of the Democratic party only wants people with power that they can give and take away.
The leaked emails are the first of a promised week of more of the same. The emails do not indicate if Campaign Zero was co-opted by superpredator Hillary Clinton and friends by their own design or if it was a result of their orientation towards power. Like Guccifer 2.0 I'm not telepathic. I can only reveal what I read with my eyes.
There are police murders and repression in every community in America, and in every community there are people standing up. When they can not be brought into a process for political gain, they are ignored, just as the national media ignores the death of Henry Green V here in Columbus. When they can not be ignored they and the reporters that listen to their voices are repressed.
This leak is simply a small part of a greater picture. That picture is one of elites selecting the opposition they want to pretend to compromise with in the way that Mountbatten once called Gandhi "Our man in India" when their were millions of people struggling from many perspectives for independence and social justice across half a continent. The interplay between party, activist, government and police is always convoluted and complex, and rarely good for a movement if the activist plays nice. Luckily for the movement the streets of America are full of young activists who have no interest in compromise.
The DNC has not commented on their 19252 emails, but I will link to a few below that informed this article. There will be more reporting to come as my coffee supply permits.
https://www.wikileaks.org/dnc-emails/emailid/1196
https://www.wikileaks.org/dnc-emails/emailid/3452