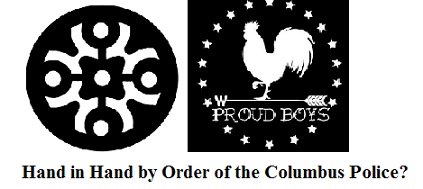 It was something that should have never happened. This past Comfest in June 2019, members of the fascist group Proud Boys volunteered at Comfest and were welcomed. Despite the 2019 mission statement including the phrase "combating resurgent fascism" Proud Boys were allowed to pick up trash while wearing t-shirts and hats advertising their group and their beliefs, and after the objections of community groups who were alerted, were allowed to get free beer and police protection. This might have been cause for internal education and improved policy within Comfest's leadership, but emails leaked to the Mockingbird show that it has produced an internal authoritarian crackdown on anti-fascists withing and without Comfest that has been sponsored by the Columbus Police.
While the Proud Boys were there, one member of a left political organization who have been targeted by them for violent harassment was voluntering for Comfest's safety patrol obviously object to a Community Festival giving a platform a group whose members have openly assaulted their opposition in front of the New York City Republican club with police idly standing by. Only after footage of the nazi riot spent months in a viral cascade around the internet did court cases and convictions and slaps on the wrist even begin to happen. The volunteer who objected was bullied out of volunteering in the future, while another safety volunteer was overheard saying "I have a cousin in the Aryan Nations, I dont have a problem with it." The latter volunteer was not bullied into quitting.
Emails, such as the one shown below, demonstate that many volunteers were far from comfortable giving free beer to nazis and calling it community. The situation was discussed through the summer and fall.

But only a few people decided to go and check with the police. There are now two claims. The first is that the police have decided that the Proud Boys have civil rights to essentially demonstrate inside Comfest. Somehow, keeping white supremacists out would void the permit with the City and end the festival. This seems like something that the White Supremacist power structure in city hall would love to do as it gives them a break from defending police shootings of black teenagers. Are the Columbus Police forcing Comfest? Are a couple of organizers using the police as an excuse? Are the police being ambigous and setting a trap?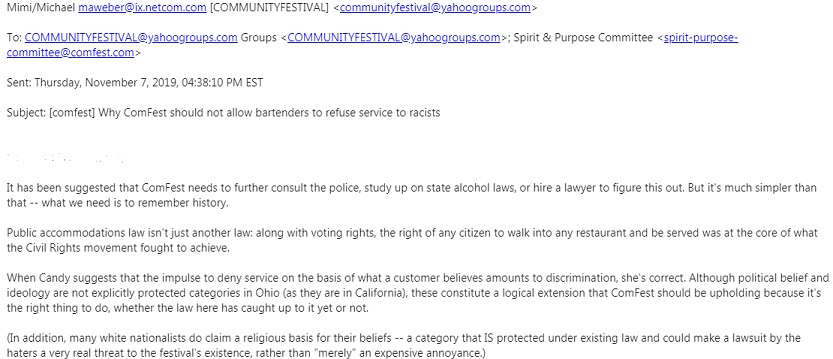 The second is that the police do not care, but Comfest is unwilling to defend itself against a potential lawsuit from the Proud Boys, even if their lawyers were free, as demonstrated by the email below.

The second excuse, based on first hand knowledge of this author, is that Proud Boy lawsuits are not that bad, even when you do have to pay for your lawyers. The Mockingbird was sued in 2017 in State Court in Texas, as our long term readers and supporters remember. You will also remember us winning. We partially crowd funded our defense and wound up with an actual out of pocket cost of around $4000. That was painful for this publisher personally as we are a small start up, but not a back breaking sum for a large festival that grosses millions in beer sales annually. I find this excuse ridiculous.
Fast forward from early to late fall and activists from the local anti-fascist group Columbus Anti-Racist Action have become concerned about the lack of planning to deal with future Proud Boy incursions into Comfest, and by extension other community events. They sent a letter to Comfest's leadership demanding that Comfest apologize in public for letting nazis cavort about pretending to work and receiving free beer as well as have solid plans for removing them in the future. They were not privy to the ongoing internal conversation.
The group gave a deadline for a response. According to their spokesperson Noreen Koltonski the response from ComFest was "crickets." Internally, the response was not pretty. As can be seen in the email snippet below, Comfest organizers were happy to discuss something they did against the KKK back during the presidency of Jimmy Carter, but refer to the current generation of anti-fascists as an "antique virtue flag".

Additionally, the Proud Boys have filmed themselves gallivanting about in their outfits and later in a mixture of Comfest volunteer shirts and Proud Boy hats. This video has existed for months but had been removed from the internet. It was posted to one of Comfest's internal email lists which seems to indicate that they may have some sympathizers within the core of the organization. This video was posted after Anti-Racist Action sent their letter but and was leaked to the Mockingbird along with the emails.
This author is a long term member of Anti-Racist Action but has not shared the text of the emails with the group. They will be reading them for the first time in this article.