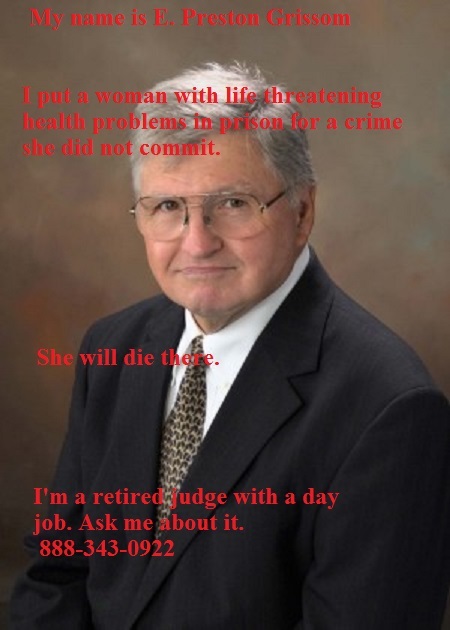 Since we first reported on the case of Angela Antoine two days ago, she has been moved to a new facility in the middle of the night. Despite Angela's multiple life threatening illnesses, she has not yet received proper treatment. Jail officials have attempted to conceal her location and she has not had access to her commissary in order to buy phone time. The details of why she may have been railroaded have started to come to light.
One of Angela's supporters, Karen Garrison, spoke with me on the phone today at length. She is a veteran activist and long term member of the Justice Roundtable and the founder of Mommy Activist and Sons, a prisoner support network focusing on sentence reduction for non-violent offenders and re-entry services for returning citizens. Garrison described Angela Antoine as one of the hardest working activists she has teamed up with in her nearly two decades of work "She called me once from the ER to apologize for not being able to be on time [to a meeting] the next day."
Antoine's cardiovascular health issues are more serious than other activists working with her seemed to know. Garrison, who is the only non-family member who has spoken on the phone with Antoine since her incarceration, told me that since her transfer her arm was "swollen, cold and numb," and that prison medical staff "attempted to measure her blood pressure with the cuff on her wrist until stopped by the supervising physician." Antoine has thrombosis balloons in the veins in her arms and has complained of chest pains since incarceration. Testing blood pressure by that method on such a patient is potentially life threatening.
Antoine was moved in the middle of the night on July 1 from the Chesapeake County Jail to the Hampton Roads Regional Jail. The money on her books has not transferred so she has made only one phone call. After some wrangling Sgt. Parcels at the Chesapeake County Jail rudely informed me she was not there and he was not legally required to tell me where she was. Virginia's public records laws have been recently been amended to favor law enforcement even more.
Statewide records indicate Antoine was transferred out of Chesapeake County but do not list where she is now. The automated phone system and website of the Hampton Roads Regional Jail do not list her under any name. They were happy to credit card charge me $2 for a 45 minute voice mail to an inmate without first checking if the inmate exists. Angela Antoine has been officially disappeared.
Garrison and other activists are asking people to "called the jail at 757 335 6260 starting on the morning of July 5. Call the judge. Call the courts. We have to get her medical help...There is no reason why she should not be on home confinement." When asked if the courts would save money by simply using an ankle monitor rather than incarceration Garrison replied "Her ankles are so swollen from cellulitis and lymphedema I don't know how they would get one on her." Cellulitis is a sub-dermal bacterial infection.
When first remanded to custody on June 27 Antoine was housed with another prisoner who reportedly had a bacterial infection with symptoms that appeared similar to MRSA. There has been at least one reported death from medical neglect in the jail Antoine is currently housed in within the last year. No jail employees were officially reprimanded.
Prior to being suddenly set up and given her draconian sentence, Antoine had begun an investigation into a halfway house that had failed to pay it's employees. That halfway house, General Universal Transitional Services LLC, or G.U.T.S. is run on a for profit basis. Meetings between the only person listed on the LLC's paperwork, Lateefah Robinson, and city officials in Norfolk indicate the facility has 8 beds.
The listed address was once the principal office of the LLC and also the residence of a nurse associated with the company. It has four bedrooms. It ceased to be the principal office on May 4 2016. It had only been the principal office for 5 months. An LLC is an unusual corporate structure for a company involved in the rehabilitation and reentry industry. Almost all such operations seek status as a non-profit because of the donation benefits. It appears that a single person benefits from this company, since at least one of it's employees has not been paid for over 4 months of work, and that person is Lateefah Robinson.
The Mockingbird will continue to work with activists on this investigation regardless of the Antoine's medical condition and report our findings. We will continue to update this story with Antoine's status as her fellow activists struggle for her release and survival.
[Update #1 July 12 2016 Angela Antoine's legal and medical conditions have slightly improved. Constant calls from activists around the country have gotten the attention of jail medical staff. At least one of the blood clots appears to be breaking up.  Her previous attorney has been replaced by a new one who appears to at least have a pulse.  That Attorney, Edward Fiorella, was left with a near empty case file and has worked to get as much medical documentation as possible and letters attesting to Angela's character are pouring in.  Fiorella is attempting a new legal strategy of withdrawing her appeal at least temporarily and relying on documentation to win her medical release.  That hearing will be on Thursday July 14th]