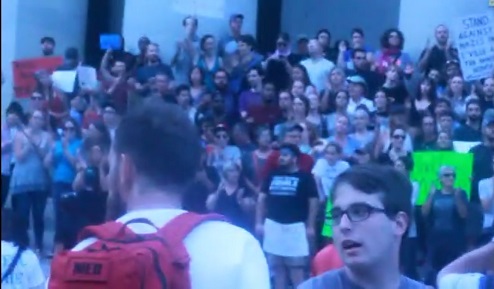 Hundreds of local residents gathered in Goodale park yesterday, August 14th, to express their sorrow and outrage over the death of 32 year old Heather Heyer and the wounding of 19 other anti-fascist protestors at the neo-nazi rally held in Charlottesville Saturday.
There were several speakers who all tied the attack by Ohio resident James Alex Fields to the near constant drumbeat of murder carried out by the Columbus Police Department in the local Black Community. Columbus Ohio is the number one city per capita in the nation for the murder of unarmed black men by white police officers. No officer has been charged with a crime in Columbus for over three decades.
The speakers were followed by a march to the Statehouse which attempted to fully take over High but were prevented by an all white Einsatzgruppen of Columbus police officers who eventually forced the protestors back onto the sidewalk with horses, bikes and nudges from their taxpayer funded $70,000 SUVs. The Dispatch reporter on the sceen speculated that there might be a confrontation like the one that took place earlier in the year were it not for the optics of the current news cycle.
Upon reaching the Statehouse without arrest, the march stretch around two sides as it circled the building once and then paused for a mass die in and a very long moment of silence.
The crowd took to the steps of the Capitol Building for another hour of speakers followed by a group speak out against white supremacy, it's links to Columbus City government, and ongoing racist organizing in the Central Ohio area. Heather Heyers name was followed by the names of people killed by Columbus Police in the recent period including Tyre King, Henry Green, Jaron Thomas, and Chris Wade as well as John Crawford, Sam Dubose, Tamir Rice, Malissa Williams, Tanisha Anderson and Timothy Russel amongst others.
The crowd was somber yet determined as they left after the two hour rally.