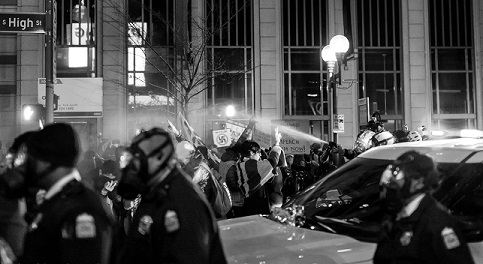 On January 29th over 1000 people descended on the Columbus International Airport to protest Donald Trump's ban on immigration and travel from seven countries. The brief protest was organized on a few hours notice and mirrored similar actions in New York, DC, LA, Denver, Chicago, Dallas, Minneapolis, Detroit and other cities. It set the stage for the largest protest in recent Columbus history.
Over 1000 people responded online to the Facebook call for a 6pm rally at the Statehouse downtown. Parking was at a premium and the size of the crowd dwarfed expectations. Nearly 4000 people attended and the mood was defiant and angry as the speeches rolled on.
The rally was followed by a march south on High street to the courthouse. Some protestors, mostly young people, began chanting "Whose Streets? Our Streets!" and seized a lane of traffic. Columbus police on bikes were unprepared. A second lane of traffic was seized and soon all of High street was blocked.
The march was briefly contained but demonstrators disobeyed traffic lights crossing the street at Mound and High grinding downtown traffic to a halt in all directions as far as could be seen.
The second rally, which was planned for the courthouse steps never materialized as armband wearing protest marshals could not contain the crowd. It quickly became apparent that the courthouse steps were completely full and the entire corner and intersection could physically accommodate a rally with that many people.
Demonstrators marched back to the Statehouse and were still in possession of the street, with traffic snarled in all directions. Several hundred choose to make a stand, blocking the intersection of State and High for nearly an hour.
Police warned the crowd three times that chemical agents would be used, despite zero violence on the part of demonstrators. There was apparent command indecision as three sergeants and the commanding zone lieutenant spent over 15 minutes in conference and on the phone some distance behind police lines after police had already donned gas masks and had large canisters of pepper spray in hand.
Protestors sat down in the intersection and were led in a Muslim prayer for peace as police reinforcements arrived. After some time police commanders put away their phones and donned gas masks themselves, indicating that a political decision had been made in either Chief Kim Jacob's or Mayor Andy Ginther's office.
Officers then doused the protestors, some still kneeling, with a mixture of pepper spray and CS gas from large aerosol canisters and then followed this attack by striking people with their bicycles to clear the intersection.
Two protest medics were on hand to treat injuries and decontaminate those sprayed. Both medics exhausted all supplies they had in their backpacks. When interviewed each said that they had treated over a dozen people each. And additional eight people were treated by paramedics and at least four others were seen leaving the area with help from friends while still overcome by the spray.
All participants expect that protest actions will continue until the refugee band is lifted, although no specific demonstrations have been announced at the time of this writing.
[Photo Credit:  Article Graphic by Chris Brikman Photography]
[Video Credit: Mockingbird Publishing]