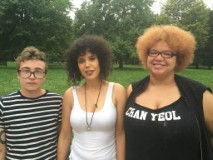 It all started with an asthma attack. Alexander Paraskos was attending a going away party for a friend when he began having trouble breathing. His friend Torri Sablan began rendering assistance. As the attack got worse, their friend Ashley Henderson arrived at the party, sober, and with an open container of potato salad. Henderson was immediately enlisted to drive Paraskos to the OSU medical center. Sablan rode along to assist. They never made it.
Paraskos began lapsing in and out of consciousness for lack of air. Henderson and Sablan stopped to get further directions at the Taco Bell at 10th and High. They asked a security guard for help and he blocked them in while refusing to render aid and claiming to be a police officer. Police and paramedics arrived but the police blocked the paramedics from approaching the vehicle while they detained and questioned Henderson and later Sablan.
Within minutes over a dozen police were present. Paraskos had not yet received medical attention while police were continuing to demand that Henderson admit she was in possession of first cocaine and later marihuana (incorrect spelling from the original police report by Officer Dewitt).
Officers demanded identification from Sablan and the barely conscious Paraskos. Minutes later Sablan was pulled out the other door by her hair and thrown to the ground next to the handcuffed and barely breathing Paraskos who had been dragged out of the car face down.
Henderson turned to see was happening when officer said "Did you just attack those cops?" All three police officers nearest Henderson were over 6' tall. Henderson is 5'6" and weighs less than 130lbs. Witnesses say that officers punched Henderson in the face repeatedly. Henderson does not remember this but was suffering from concussion symptoms two days later.
All three were arrested on a variety of charges including resisting the arrest of Paraskos and interfering with Paraskos's medical treatment. Officers claim that they found a small amount of marijuana and an open container despite the existence of clear evidence that both were planted after the trio was arrested.
All but one of the responding officers was white. All but one of the responding officers was male. Henderson and Sablan are black. Paraskos is transgendered. None of the officers was availible to comment on how long they have been bigots.
Paraskos, Sablan and Henderson are all activists with a variety of different groups and a diverse number of issues. They gave an interview can be heard on a WCRS community radio here. The trio were attempting to raise funds through the crowdfunding site youcaring.com but their effort was shut down due to the site not permiting legal defense fundraising. Their crowd funding effort for legal defense can now be found here.
The Mockingbird will continue to cover this cases as additional evidence of police brutality, evidence tampering and racism is presented in court.
Photo of Paraskos's feet showing clearly that he was dragged face down while unconscious: